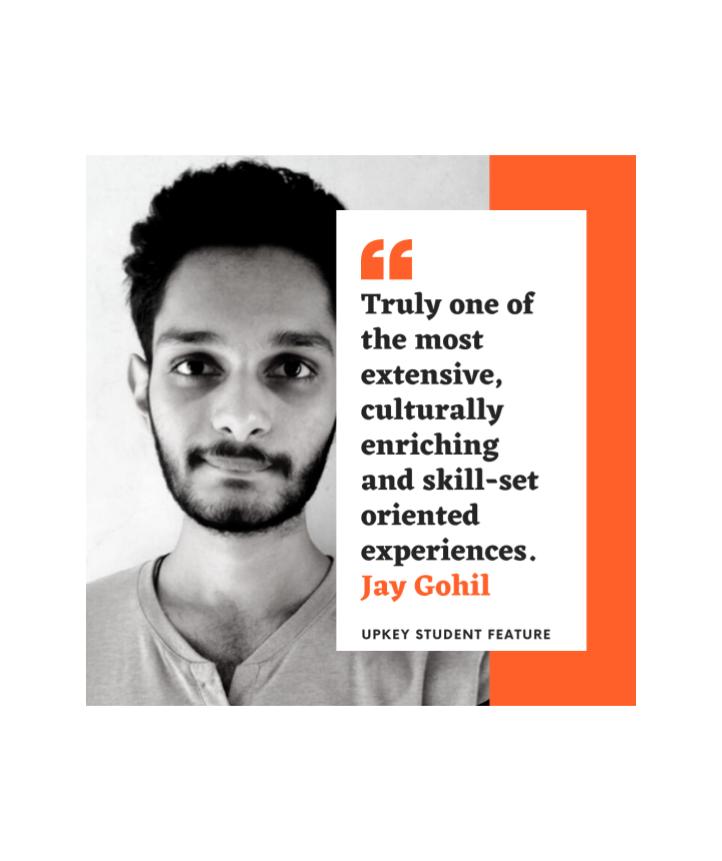 How Upkey's VIP helped me develop skills and awareness across industries

By Jay Gohil, MLSA Beta at Microsoft
A crucial experience for a student is having an internship since it enhances communication professionalism while helping one gain a skill set in a field of their interest.
Therefore, the value of an internship experience motivated me to apply for Upkey's VIP (Virtual Internship Program) in spring 2021.
This is where my Upkey journey began!
I was selected and offered an intern position in VIP after the evaluation of my complete profile on Upkey's comprehensive and dedicated dashboard.
The virtual internship spanned over six weeks and was truly one of the most extensive, culturally enriching, and skill set oriented experiences I have had from any program.
Speakers and presenting exposure
During my tenure, the virtual internship consisted of daily sessions on various facets of life.
They included finance, entrepreneurship, marketing, communication skills, product management, and personal portfolio. We also gave weekly presentations on projects assigned based on the week's theme.
The sessions were full of industry expert personnel with great insights regarding their field which they portrayed to the interns with enthusiasm.
In the first week alone, we heard from Brian Schulman, Richard Moore, Katy Smithy, and Anthony Ciccarone.
Furthermore, the first week's theme was "Communication and Career Launch," where I learned all about SMART goals and different aspects of effective communication skills.
This week ended with a presentation on personal SMART goals which boosted my confidence while public speaking.
The second week was about entrepreneurship. I worked on a business proposition including problem at hand, ideation, solution, validation, business model, growth opportunity, and marketing strategy.
After a week of expert sessions from Paris de l'Etraz, George Abe, and Joe Haslam, I gave another presentation on my work.
The next week we focused on our marketing skill set. We had a project goal to create a 60-second video that communicated the value of Upkey to a user.
This was, again, after a series of wonderful industry personnel sessions from Sky Kennedy, Glenn Kramon, Elisabeth Honka, and Enrique Linares.
My professional development
The fourth week was my personal favorite, as it was based on a topic I am extremely passionate about: Finance.
It was taken up by the team of The Resurrection Project (TRP) on various financial domains and skill sets. These included financial goal setting, money management, stock market, and real estate investing.
For the week's presentation, I worked on TRP's long-term Wealth Mind Map dedicated to my goals which made me contemplate my life and degree.
This was followed up by the fifth week's theme on product management which focused on user stories and how they extraordinarily benefit us.
The final week was the most memorable one and filled with sessions focused on a professional personal portfolio.
We learned about resume building, networking, email write-up, and AI in the hiring process. I also got an opportunity to showcase my website that I created for my Upkey journey to 100+ interns!
I received an overwhelming response from the interns and the Upkey team after I showcased my portfolio.
"Upkey VIP provided me with industry exposure, enhanced skill set and increased career knowledge while broadening my professional network! I would encourage everyone to undertake an Upkey Internship."

Jay Gohil
The Upkey team difference
An important part of the internship was the interaction we had with the Upkey team during the sessions.
Especially Emmanuel (Head of Growth) and Tobi ( Programs and Outreach Operations Coordinator) kept us engaged throughout the sessions (along with their great taste in music that they played during the sessions' beginning).
They guided me tremendously throughout the program and helped me with various issues I faced with more than satisfactory responses.
Overall, it was a wholesome experience. And did I mention it's free? YES!
Therefore, I would like to applaud and appreciate the entire Upkey team for providing such a memorable experience. I enjoyed the expert sessions, theme-based projects, weekly presentations, and a boosted professional network. It was a wonderful journey to remember!
Furthermore, I will encourage any and everyone to participate in Upkey's internship programs due to the incredible amount of professional benefits.