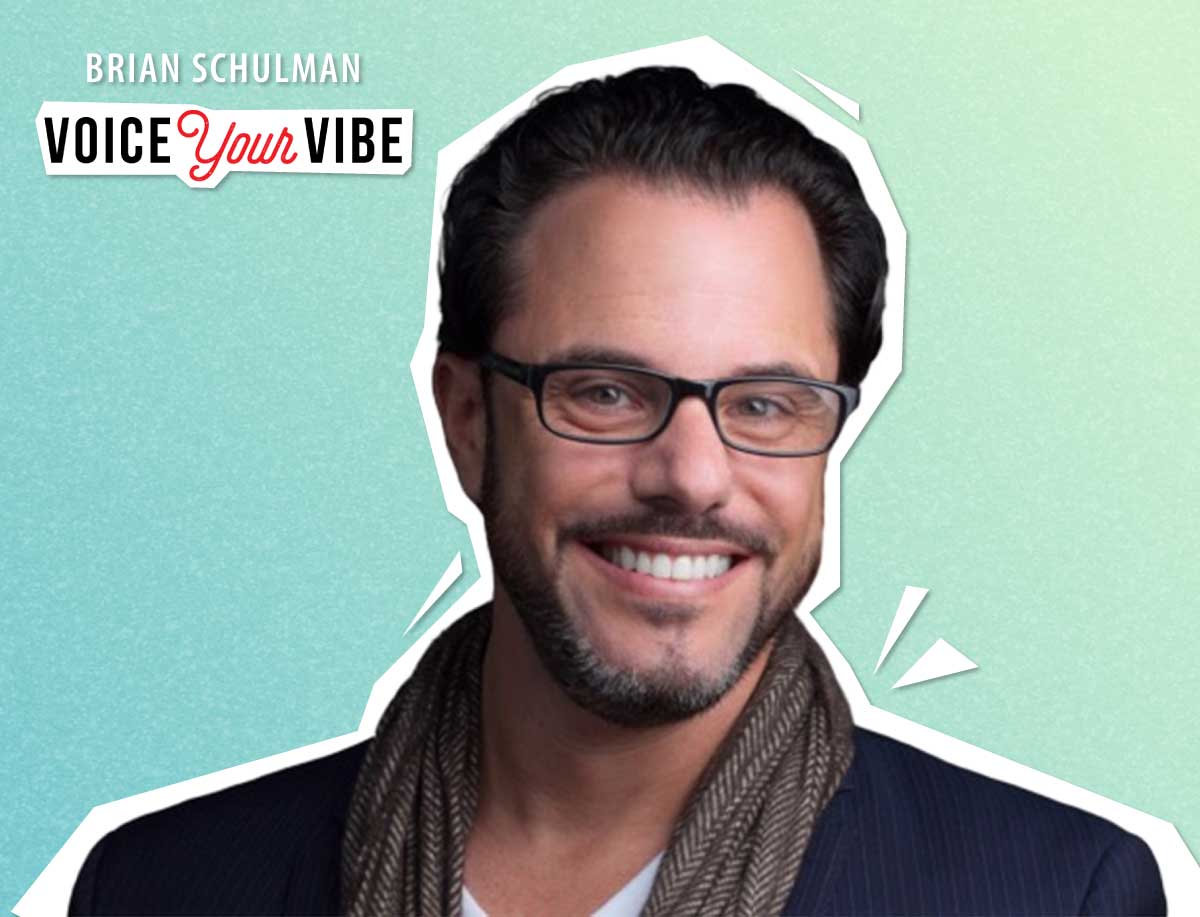 I am so excited to get to share this interview with Brian Schulman. An incredible entrepreneur voted Top 50 Most Impactful People of LinkedIn and 2020 LinkedIn Global Leader of The Year for the second consecutive year. Brian is best known for his Voice Your Vibe videos on LinkedIn where people get to share their stories to inspire and cultivate a supportive community. Here is a wonderful interview with Brian to inspire, motivate, and feel seen.
1. Please tell me a little about your personal/educational/professional background.
I was born and lived in Los Angeles, CA until I moved to San Diego where I attended San Diego State University (and earned a degree in Psychology). While at SDSU I founded Phi Kappa Theta Fraternity with some incredible men, which ignited my love for building and growing start-ups. After 20 years of building and growing start-ups, 3.5 years ago I decided to leave the corporate world to start my own company, Voice Your Vibe. Voice Your Vibe brings positivity to the world, creating a safe space, and empowering people.
2. After studying psychology at San Diego State University, what prompted your shift to digital marketing?
I would love to say that it was a well-thought-out decision, but the reality is, I needed a job. I found that I was good at it because of how it did it. I put people first, I built relationships, I cared. Digital Marketing was an extension of this.
3. What inspired you to start Voice Your Vibe?
After building many successful businesses for my clients, I was ready to take my skills and put them toward building a company of my own. I knew I could make a difference and I knew it was the way I could have the most impact. My WHY was and continues to be, to inspire one person a day. If I have done that then I have accomplished my goal.
4. How do you hope to see Voice Your Vibe grow in the future?
Voice Your Vibe is in the process of growing into a global household name that represents positivity, love, courage, and community. It has been a privilege to watch it grow and touch so many lives.
5. What does being a #1 Best Selling Author mean to you?
It is an honor and privilege to be an author, having the opportunity to share my story to inspire others has always been a goal of mine. The first time I found out I was a Best-Selling Author; it was unexpected and exhilarating. It has been a privilege to be named a #1 Best Selling Author, and for it to have happened 3 times in 2021 is something I still have a hard time believing. Every time it happens it is just as unexpected and exciting as the first time. To know that "The 13 Steps to Riches" has been held in so many hands, which translates to so many opportunities for my story to impact the life of another human being, means the world to me.
6. LinkedIn has named you a Global Leader of the Year twice, in addition to giving you multiple other awards. What is your relationship like with LinkedIn and how has it helped you promote yourself, your work, and your career?
LinkedIn is my digital home. 18 years ago, my purpose for choosing LinkedIn to grow Voice Your Vibe is and has always been, to inspire one person a day. I did not know how I was going to do that, but I knew that was what I was going to do. It is the place where I began my journey, found my voice and a family I never knew I had. My goal was never to promote myself but to shine the light on others, to inspire others to show up, be themselves and get comfortable with being uncomfortable because that is where the growth happens. This has never ceased to be the guiding principle for everything I do.
7. You featured as a keynote speaker at Upkey and other company summits and events. Why do you enjoy speaking with students and what do you hope they take away from your presentations?
I love seeing students' faces light up with the realization, and belief that "they can do it too". That 'ah-ha' moment where they KNOW that they have a voice and a story that matters and can/will inspire others by voicing their vibe and sharing "themself" with the world. I get to watch them step out of their comfort zone, post, or go LIVE for the first time and see their faces light up when they realize, by taking that first step, they have inspired others to do the same.
8. What are some of your personal and professional goals at the moment?
Personally, I do not look at it as a goal, per se, because I love doing it and not 'meeting it' isn't an option. I intend to continue being there for everything my children do. To celebrate and support them, even though they are now in college, and think they are all grown up. In reality, they will always be my babies and I don't want to miss a single moment!
Professionally, I look forward to continuing to write my story, which is not finished, and continue to inspire and help others see themselves through my eyes and embrace the greatness inside of them. I started being a Keynote speaker many years ago and it is something that I love deeply. It nourishes my soul, because of the people who take the time to share with me how inspired they were to share their stories after hearing mine. I can't imagine giving that up. 
As for my shows and Voice Your Vibe, the team of incredible humans that make up the Voice Your Vibe team continues to grow. Voice Your Vibe's success is measured by the number of people who call it home. It's about the number of lives changed. The number of people that have grown from being a part of the Positive Vibe Tribe. The number of people who have been inspired, who after coming on one of the global award-winning LIVE shows, Shout Out Saturday or What's Good Wednesday, shares that it was a catalyst to a shift in themselves and their world, a shift in confidence, belief, happiness, and belonging
9. Where do you see yourself in 5 years?
On an island that I own. I really love what I do. I wake up every morning excited for what the day holds, who's heart I will connect with that day, who I will inspire, and who will inspire me!  If I get to do this every week for the next 5 years with the team that I love so much, I will be the luckiest guy in the universe.
10. So far, what are you most proud of?
Hands down, my monkeys. I have always been fiercely committed to making sure that my work never gets in the way of any moments with my 2 kids.
In terms of career, I am most proud of being named a 2021 Top 50 Most Impactful People of LinkedIn out of 800 Million people, an honor decided by the votes of your peers. In my opinion, to be recognized by your peers is the highest honor. To be on that list 3 years in a row means that I am continuing to create impactful content, continuing to grow with others as well as personally, and connecting with my community in a way that is meaningful. 
It has always been, and continues to be my goal from the day I started on LinkedIn and first showed up 18 years ago, to positively impact, uplift, and inspire one person a day. To know you are achieving a goal that impacts so many people every day is something to be proud of.