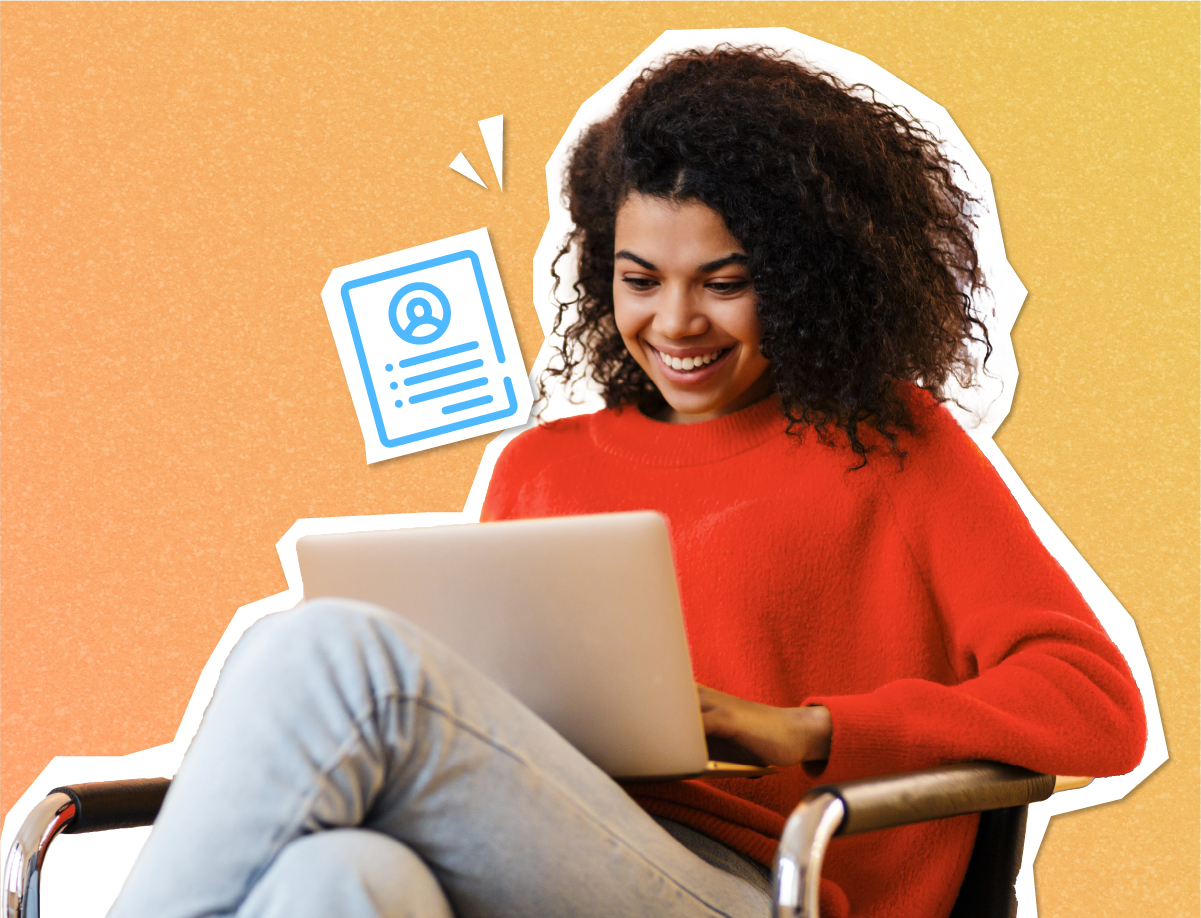 All dream jobs begin with a stellar resume. But sometimes, even the best of us forget about details you should have, formatting, and best practices- that's where Upkey's Resume Builder comes in!
Your experience is awesome. Our Resume Builder is here to make sure it gets shown off the best it can be.
By organizing your experience and info into the correct format, our Resume Builder is ready to help you get where you're going and beyond!
Here's a quick tutorial on how to use it.
Starting off, you'll want to make sure you have an Upkey account. Log in or create a new one.
You can do this using your Gmail, Facebook, or LinkedIn account.
OR enter the required info. Name, email, password- you know the drill.
Saying "I'm in" like a hacker is optional but recommended by the author.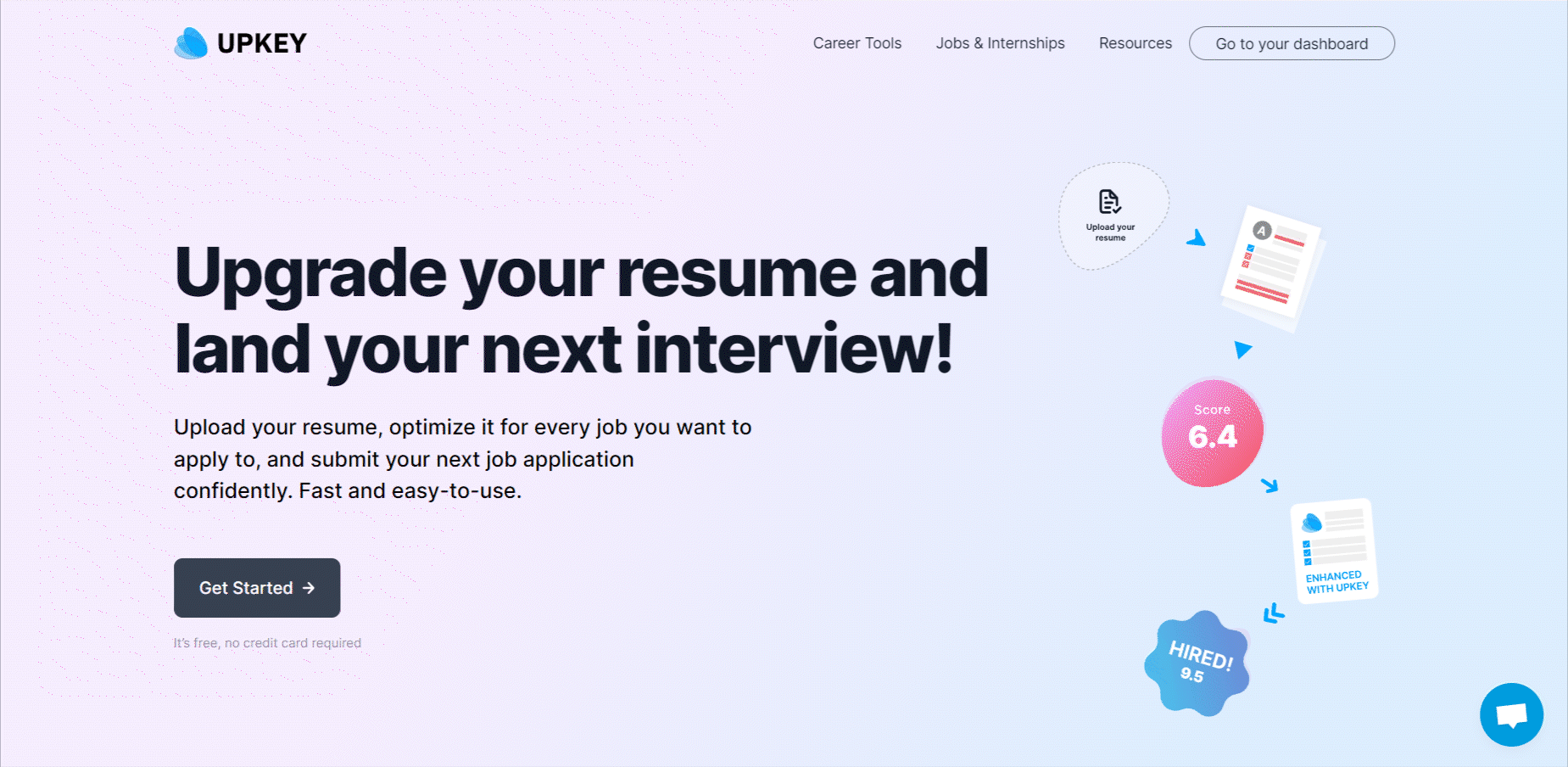 Onto to the resume creation: Upload your current resume OR
Create a new one from scratch – Follow a step-by-step setup to create your new resume, and fill in your information. This is basic stuff like who you are, what your education and work experience look like, your hobbies, etc. All the good stuff. We've made sure there's a spot for all of it.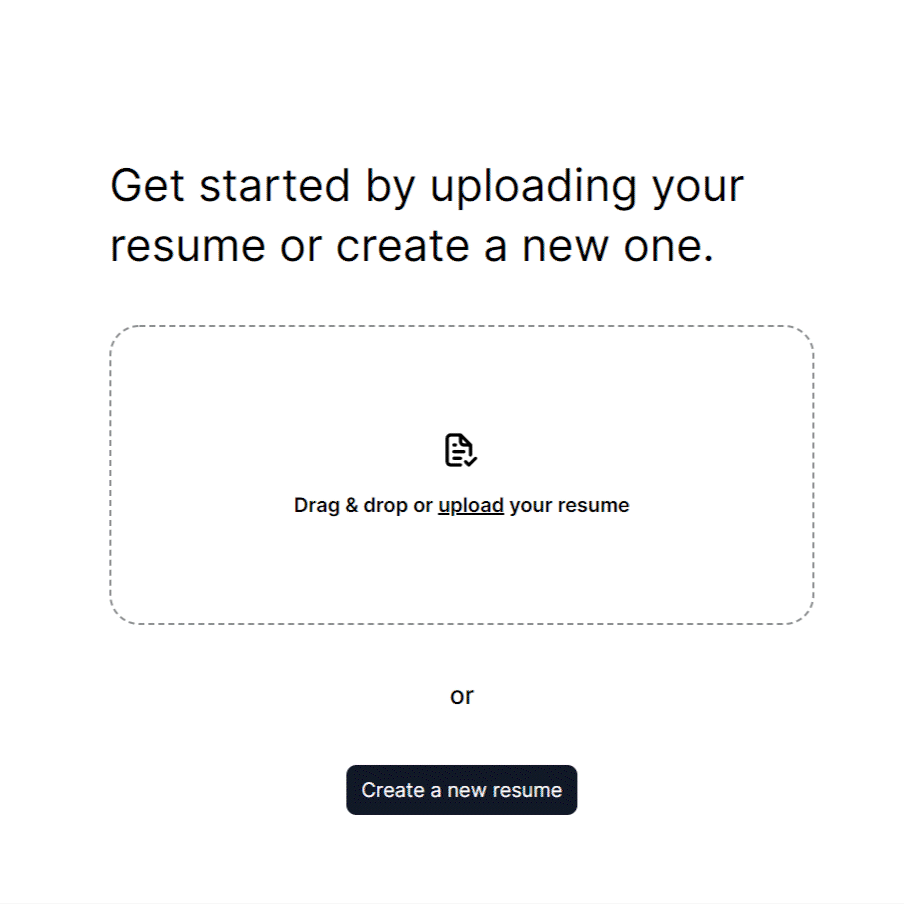 Now it's time to score your resume and learn how to improve! Head to the "My Resumes" section, and if you have uploaded your resume, it will already be there, and you can check the score for it. If you are creating a resume from scratch, you need to generate a resume first by clicking "+Generate Resume." You will get a score with detailed suggestions on how to improve; it is based on best practices and the latest ATS screening criteria.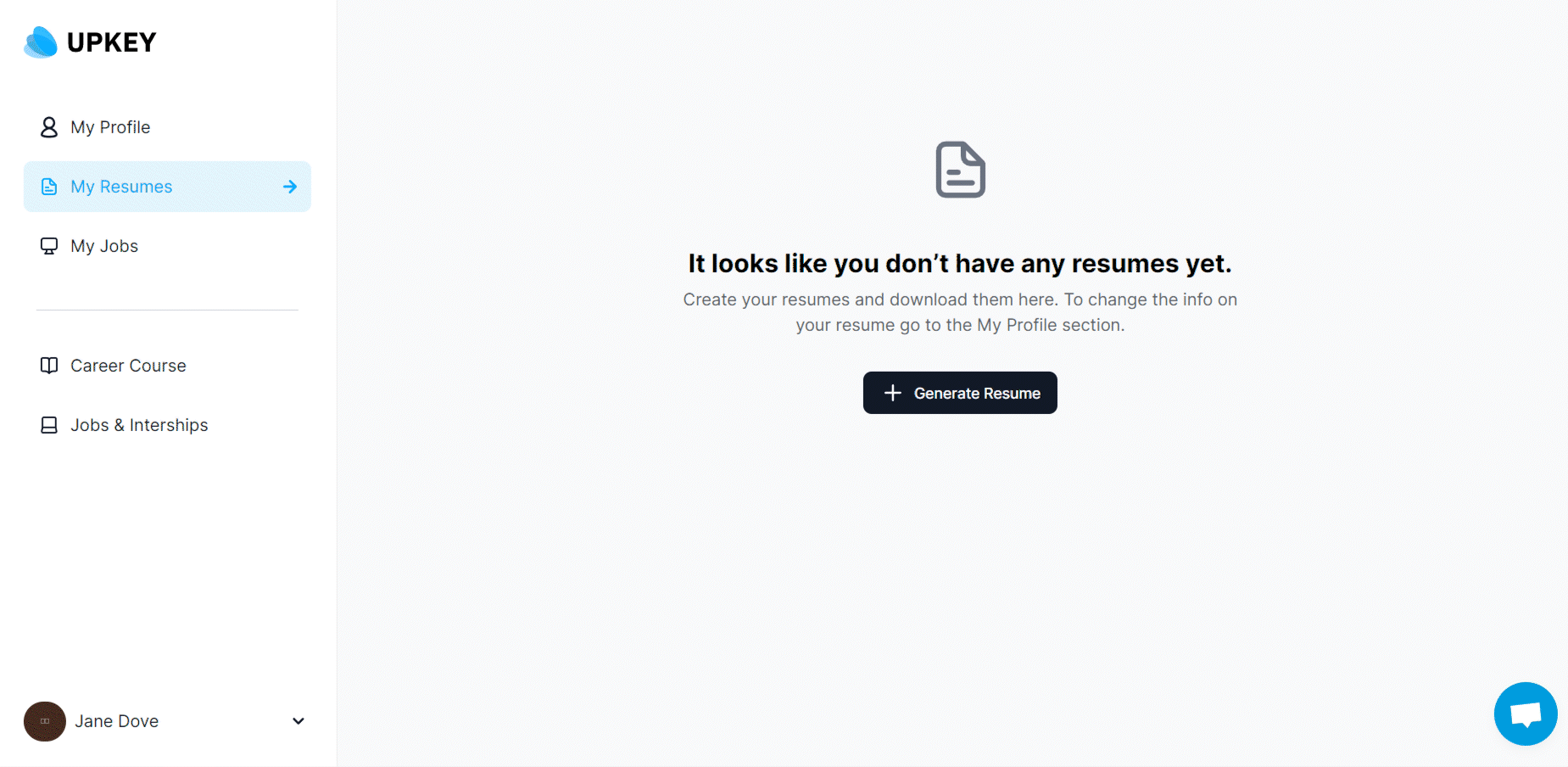 Improve your resume – Once you have your score and suggestions, head back to your Profile section, edit all the information you want, and improve your resume.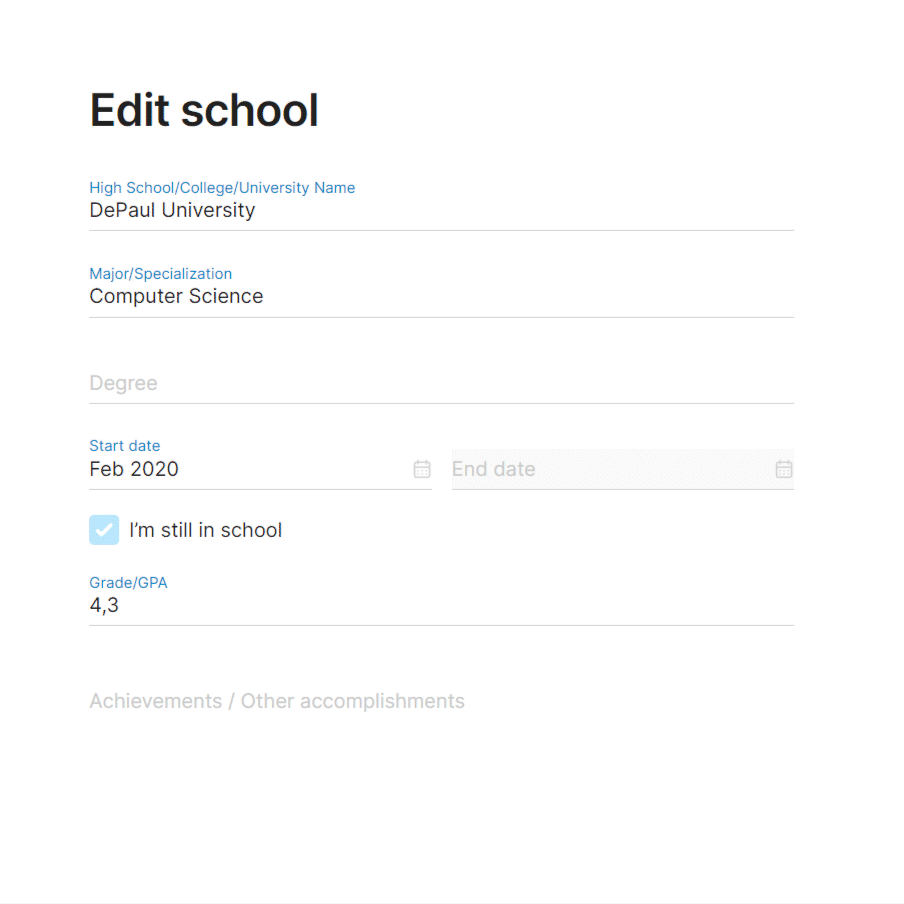 Congratulations! You've got a new and improved resume! When you are done with all the edits and improvements, generate a new resume, choose a template, and how you want to save your resume (as a .doc or .pdf file).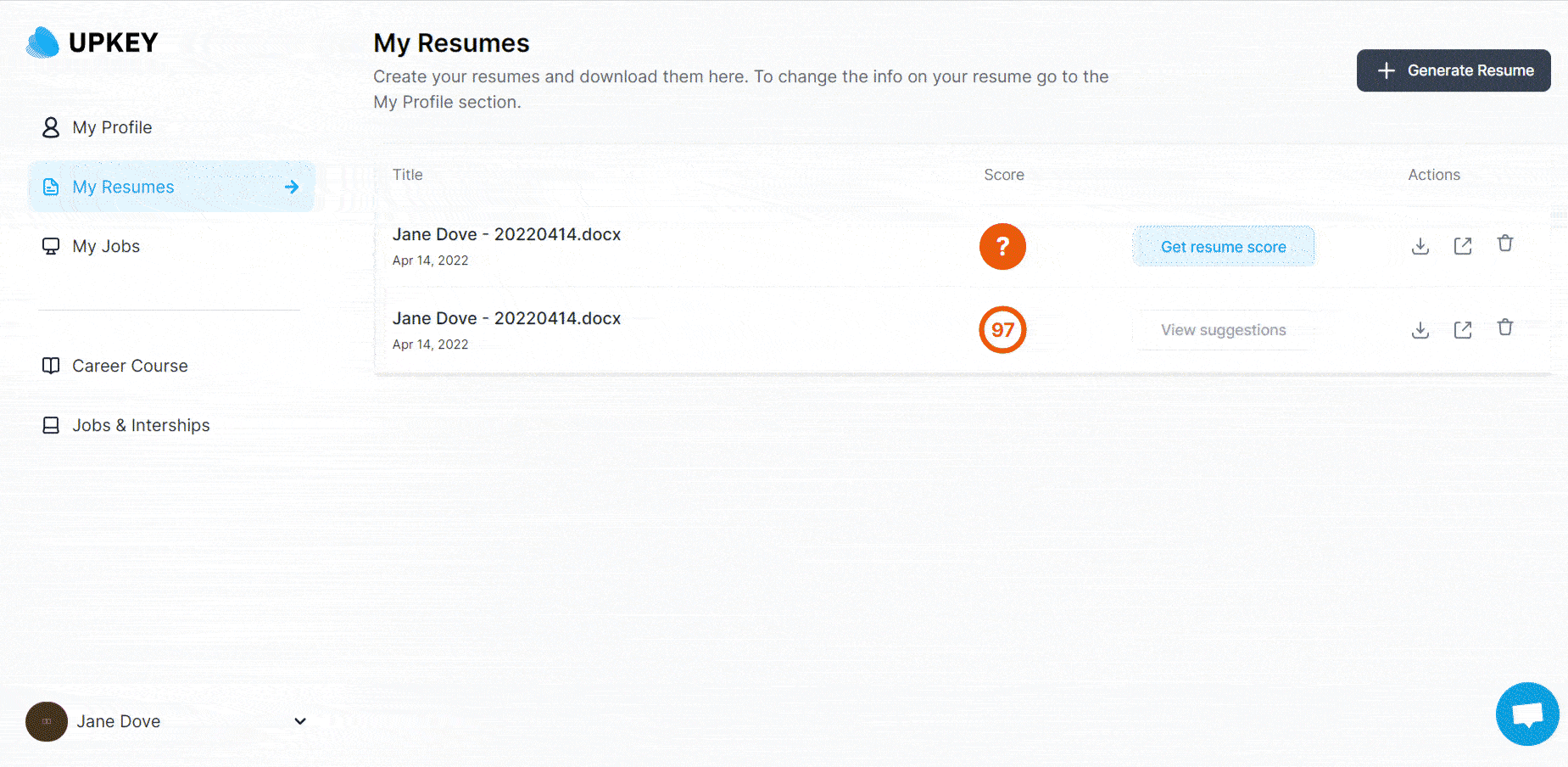 TIP! We recommend saving it in both formats. Remember, ATS bots can't read PDFs well. Use the .doc for online applications and the .pdf if you're sending your resume directly to the hiring representative.
Note: Upkey always stores the resumes you submit. So when you're ready to apply for a job, just log in and download your most recent one. Also, you can add jobs, keep track of them in your dashboard and get a match score for every job you want to apply to with suggestions on how to improve your resume for any specific job.
TIP: Remember, you can always edit your resume by changing the info you put into those fields we mentioned in Step 4.

We can't wait to see how you make the Resume Builder work for you!