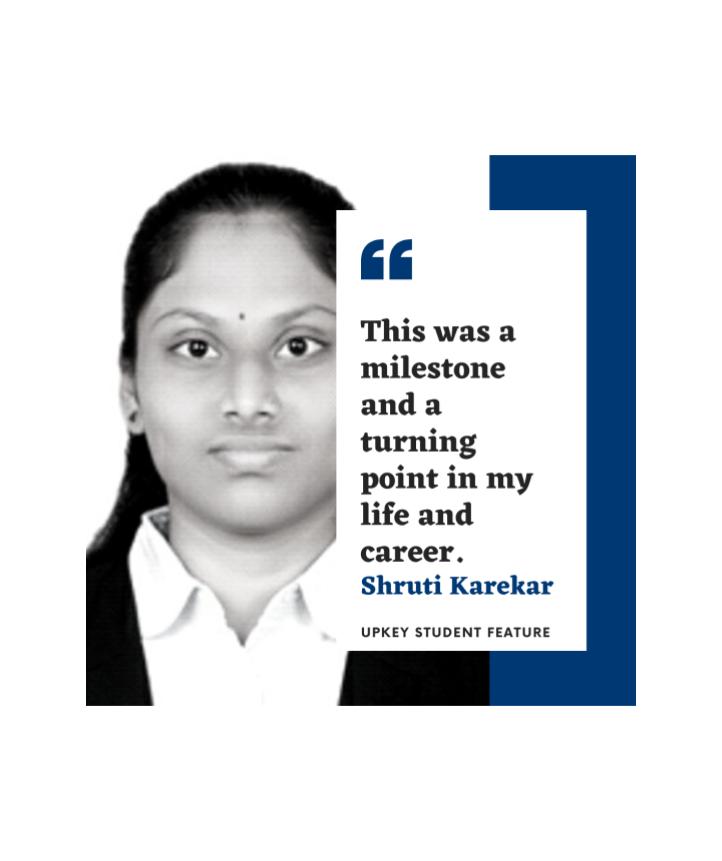 How I learned to present myself in a variety of professional settings
Shruti Karekar, Smt. C.H.M College, India
I was part of Upkey's 2021 Spring VIP. Not only did I developed a sense of personal professionalism but the ability to shine in a workplace. I was also taught the importance of listening, respect and kindness in an executive setting.
Whether you are a student, job seeker, or already have a job, Upkey's team can help everyone.
Skills that elevated my personal professionalism
In my six weeks, I became proficient in strategic communication which included vocalizations, writing cold emails and virtual storytelling.
I am confident in my abilities to convert and engage a target audience and how to present myself during social interactions.
Personal branding helped me understand exactly who I am and what I stand for–I embrace these values and express them with care.
I acquired a professional awareness and knowledge about effective workflow, time management, career planning and SMART goals.
I also developed a sense of financial awareness.
Since the internship, I have a better understanding of financial goal setting, money management, investing in the stock market, credit building, real estate investment (US and Global) and asset management.

Industry and professional awareness
I also learned about the skills that companies use to stay relevant and successful in the industry.
There is a strong relationship between uncertainty and idea generation which helps build business models, scaling a startup and marketing.
Additionally, there's a need to have a proper understanding of various fundamentals of intellectual property and licensing to be in the market.
LinkedIn brand development, digital marketing, pitching to investors and deriving how companies identify the right price for a product help companies sustainably stay in the market.
Product management was a new topic for me when I got the opportunity to explore the role of design.
Agile product ownership helped me answer questions like 'What?', 'So what?', and 'Now what?' when writing user stories and using Microtool.
We were guided to prepare portfolios, write resumes and learned the impact of AI and automation during the hiring process while considering our personal professionalism.

A rewarding experience
It gives me immense pleasure and pride to acknowledge everyone who made my journey of six weeks remarkable.
Thank you to the Upkey team; Amir Badr, Emmanuel Ndifor, Tobi, Natalie Turner, Maitreyee Hunter and Afeez for organizing this wonderful platform for us.
This was a milestone and a turning point in my life and career.

Shruti Karekar
Sincere thanks and gratitude to all the speakers who made this internship a fruitful one; Richard Moore, Katy Smithy, Brian Schulman, Anthony Ciccarone, Paris de l'Etraz, George Abe, Joe Haslam, Kaley Chu, Sky Kennedy, Glenn Kramon, Elisabeth Honka, TRP team, Lorena Pulido, Addy, Tanel, Evan Spillar, Scott Downs, Leo Heffler, Raquel Borras, Lilian Abou Hamdan.
Finally, thank you to all the interns for their kind help and suggestions during my presentations.