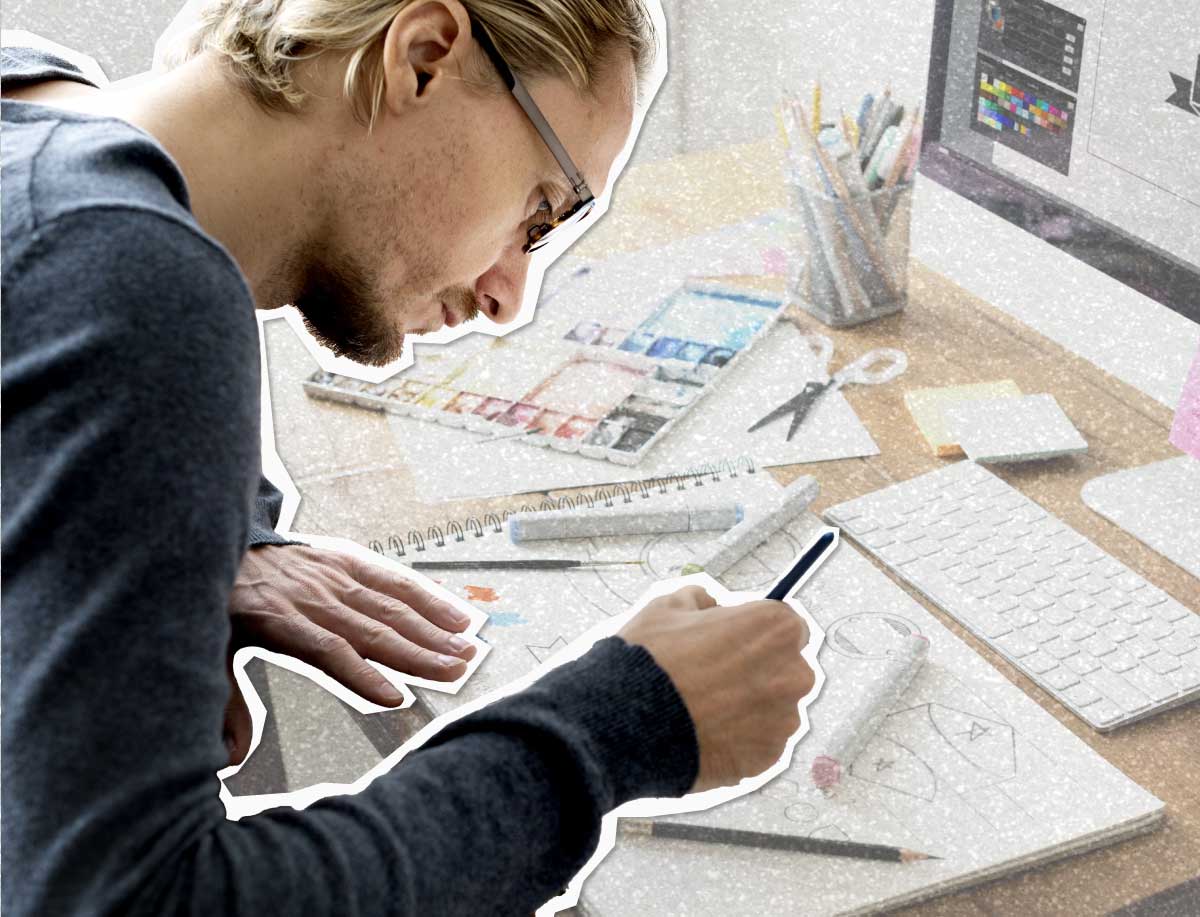 Many companies are now transitioning their businesses to be fully online, optimizing their websites, or even taking advantage of the marketing capabilities that are unique to advertising on the internet. One job that has gotten more attention than ever has been to the graphic designer. The versatility of the position and the application of the product is so vast that more and more people are hiring and entering the graphic designing community.
While it is such a broad field, we don't really have time to explore it. We did find 10 tools that are fundamental for every graphic designer.
1. Paper notebook
You'll find that most people working in creative fields have one of these stashed somewhere on their person. Having a quick place to jot down ideas, sketch layouts, or even write down contact information is key to keeping the mind open.
2. Creative software
This may seem like a no-brainer, but creative software is an essential component for a graphic designer for many reasons, namely to make their ideas come to life. Having a basic knowledge and exploration of software like Adobe will make your ideas more elaborate and make your projects stand out.
3. Large extra monitor
Most graphic designers have extra monitors with a high resolution. If you have to create a really great image with lots of little details, having that large monitor will help you zoom into the nitty-gritty parts of your design. The organizational aspect of having a couple of monitors is also something to consider. Keeping projects and files clean in your hardware is the best way to save on task.
4. External hard drive
Storage, storage, storage. Having an external hard drive is a great way to keep and access old projects, images, and colors. Just because a project you laid out a few years ago may not precisely fit your new brief, maybe the border finish you designed will! While it's essential to learn when to let go, it is also necessary to know when to save.
5. Monitor calibrator
This tool I didn't know existed but made perfect sense to me. The color and clarity difference between camera, monitor, and image will be significant. The worst outcome would be working on a project and then realizing the color is off AFTER you sent over the samples. Monitor calibrator software helps alleviate that worry and ensures your colors aren't warping!
6. Ergonomic furniture
Graphic Design is a desk job, and humans are not desk-shaped animals. Creating and touching images take a lot of concentration which means a lot of hours in front of your monitor. Having a desk and chair that promotes better posture will help with your long-term muscle pain and boost your performance. You won't have to continuously stop and start a project to readjust your back.
7. Walking/Standing desk
This goes along with the last point. Having the option to walk and stand at your desk is great for many reasons. It boosts your personal health, increases the quality of your work, and keeps you focused. There are countless studies about how blood flow and exercise will boost your mental health and productivity.
8. Headphones
Having a great pair of headphones can be as important as having a cellphone. Aside from having clear audio during meetings, headphones can help curate the perfect creative atmosphere. Minimizing distractions by tapping into your flow will raise the quality of your work and help you meet deadlines.
9. Cloud Storage
Just like with external software, cloud storage is crucial. It not only can hold your images but also reference photos, brief documents, and other various information that you might need to access last-minute away from your desk. We can all pretend this doesn't happen, but everyone has been in the scenario where you've had to put out a work-fire while out to dinner. Having cloud storage can easily keep your work on time, just as long as you honor your work-life balance as well.
10. Productivity Software
This means software like Google Suite; there is an incredible amount of customizable software options to choose from. As long as the software can help you keep tabs on project progress, deliver high-quality images and videos, and instant communication, you are good to go.
Graphic Design and Upkey
We love our graphic designers; they are an incredibly integral part of keeping our company moving. If you are interested in finding graphic design jobs and internships, head over to our Job portal and get customized option results. Before you apply, stop by our Resume Scorer and make sure that your application will be seen by recruiters. As always, if you are looking for more advice, answers, and assistance, head to Career In Progress, where I try to address all the burning topics.