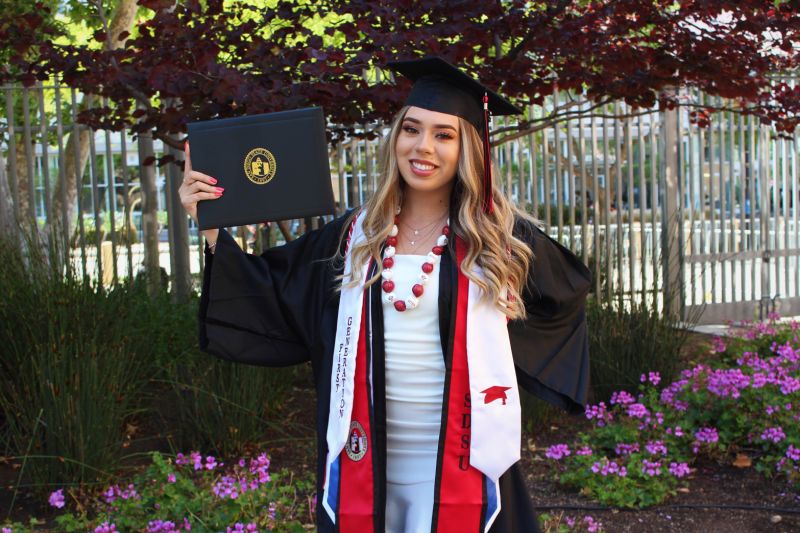 How Garcia's ambition helped her land a job at LinkedIn
By: Elizabeth Bulat
From homecoming queen to a first-generation college graduate; Ariana Garcia truly knows how to embrace it all.
Last spring, Garica participated in Upkey's Leadership Development Internship. A year later, she's a graduate from San Diego State University with degrees in Political Science, Business Management and Communication. She also has a job secured with the Sunnyvale LinkedIn team as a Human Resources Operations Associate.
Leadership since the beginning
Originally from Santa Clara CA, Garcia grew up the oldest child and had few professional role models. Therefore, her drive was primarily intrinsic to pursue a college education.
"It was all a learning experience," Garcia explained. "But that experience has shaped me into the person that I am today. I want to be able to give back to other first-generation students like myself."
Once she arrived on SDSU's campus, Garcia jumped into student organizations that reflected her passions and interests. Soon enough, she was embracing leadership roles and expanding her network. These positions included the Director of Professional Development of the Hispanic Business Association (HBA) and the President of her residence hall.
"I knew that I wanted to make a name for myself and get involved," Garcia said.
Being connected to a variety of student organizations provided Garcia with networks and experiences that prepared her for her future.
She explained that while interning for San Diego Councilmember, Sean Elo, she learned the importance of speaking up for what she was passionate about while establishing herself professionally. On the other hand, Women in Business is an organization that helped her identify the strengths of others while working in a team environment.
"I think that each [club] really gave me something that helped develop my professional character and the person that I am today," Garcia said. "I'm really thankful for everything that I was part of."
Embracing Upkey's internship
In spring 2020, during COVID-19, Garcia was looking for an internship. While browsing on LinkedIn, she came across Upkey's Summer VIP program and was impressed with its mission and credentials.
"I really resonated with the company and its mission," Garcia said. "I saw that they wanted to provide skills to students that we don't really learn in the classroom. But we are going to need them in the professional world."
During her three-month internship with Upkey, Garcia noticed her professional presence become refined. She also feels that her confidence while public speaking is stronger since the program.
Furthermore, she enjoyed not only listening to the guest speakers that came to the Upkey Zoom calls, but she also embraced networking with them after sessions. A particular speaker from Stanford agreed to speak to one of her campus organizations after she reached out to him on LinkedIn.
Overall, Garcia felt that her hard and soft skills–including Excel proficiency and collaboration respectively–were enhanced during her Upkey internship. Her belief was solidified when her next internship at Super Purposes was impressed with her work and promoted her to an HR lead after her first month.
"I think that Upkey's internship provides a foundation for me to grow. It's helped me eventually get to where I am today," Garcia said.
Fulfilment at LinkedIn
This June, Garcia will begin her job at LinkedIn. She explains a key reason that draws her to LinkedIn are the opportunities within the platform that have benefitted her career. She keeps in mind that her prior internships and jobs are all rooted within LinkedIn networking.
From finding her Upkey internship to networking with alumni to watching her collegiate organizations grow via LinkedIn; Garcia describes this job as a dream come true.
"I don't think that I would be as far–being a first-generation college student–if it weren't for LinkedIn. That's why when I got that job offer I literally cried; I was so excited because I could be a part of that and help change people's lives."
Not only does Garcia expect her work with LinkedIn to make an impact, but she also hopes that her professional success will inspire first-generation students.
She empathizes with students who lack guidance or a vision of working for their dream company. However, she encourages them to try their best and embrace opportunities as much as possible.
"Ultimately, that's going to help shape you," Garcia explained. "It's going to give you the experience you need. You are smarter and more capable than you think."