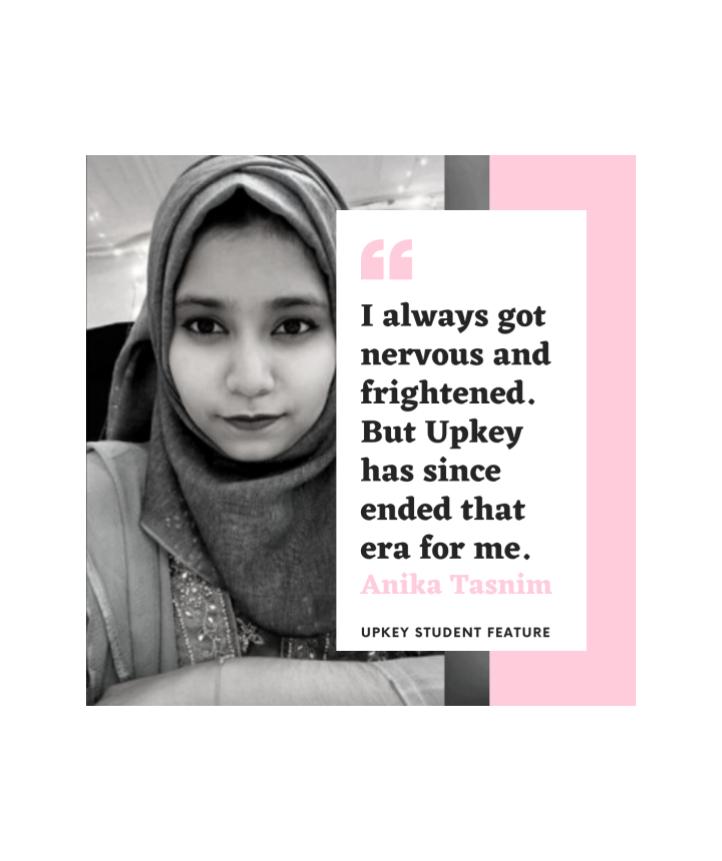 Upkey's VIP improved my confidence with public speaking
Anika Tasnim, Bangladesh
My name is Anika Tasnim and I'm from Bangladesh. I'm a final year undergraduate student majoring in HRM at Shahjalal University of Science & Technology. I have just completed my VIP at Upkey which helped me develop a new sense of confidence.
How Upkey helped me to develop my passion
I was a science student until college. Then once I started university, I was a business student. However, I found business studies very hard and tedious; I slowly became frustrated. I thought I would quit until I found an Upkey Internship post on LinkedIn.

At first I thought it would be similar to other unpaid internship programs where the organization would only make me work. However, I was craving to get professional confidence in some capacity, so I applied for the internship.

Before starting the first week, I found the weekly schedule of our live sessions on my Upkey dashboard. I was amazed to see that Upkey would help me gather professional knowledge for my career rather than making me work all day long.

Again, I was not expecting this at all, and I was amazed and excited by this opportunity.

The live sessions concentrated entirely on students' career development. I found many excellent sessions by Professors, Leaders, Founders, and Public Speakers.
As a result, my concepts and perceptions of business studies changed positively. Moreover, I started to understand and enjoy the different sectors of business studies through these sessions. I gained confidence and exposure to marketing, finance, management, and entrepreneurship.

Upkey sessions helped me find a path that I'm passionate about. It was difficult overcoming my initial confusion; however, I'm sure that I'm interested in Communication, HR, and Marketing, and I'll pursue my career according to it.

Upkey supported me to overcome my fear
I was always interested in public speaking and I dreamed of talking in front of people. However, it's always been one of my biggest fears. Whenever I had to present myself in front of people, I always got nervous and frightened.

But Upkey has since changed that era for me.

Every Friday, I had to give a live presentation in front of my fellow interns during the VIP program. At first, I was very nervous. My presentation during the first week was not good at all.
However, I decided that overcoming my fear was possible.

Since nobody was judging me during my presentations, I was able to overcome my fear more confidently. I started to present first at the presentation blocks and my peers were very supportive and complimentary.

My VIP confidence growth
I participated in the VIP Spring 2021 at Upkey, and it was six weeks long. We learned about communication, entrepreneurship, marketing, finance, product management, and portfolio-making.

I came up with a startup idea for the second week's project. This made me consider how I could start a business and what tasks I would have to undergo to succeed.

I created a marketing audit report and a brand story for an existing company for the third week's presentation. By analyzing the types of content on social media and their frequency, I also learned about how a company manages its marketing and branding strategy.

For the fourth week, I formed a personal long-term wealth plan for the next ten years. I never thought that money management and wealth planning were essential for success. However, during this week I learned about the importance and methods of money management.

For the fifth week, I learned about user stories. I made a user story for my startup idea and considered how I could reform my startup plan according to user stories.

Reflecting on my VIP development
This spring was an incredible journey with Upkey. I noticed development in myself each day by advancing my knowledge and experience for my future career.
The Upkey team was constructive and supportive of us at every point. I got the opportunity to connect with mentors, professors, and other professionals. I also connected with some fantastic peers who helped me during my internship.

Upon completing internships, Upkey provides badges and ranks to their students. Upkey also provides mentors with resources and recordings of sessions on their dashboard. Thus, a user is given significant resources without paying a penny.

I suggest that everyone joins the internships and other programs at Upkey. I even joined a second Upkey Internship for another confidence-boosting experience.