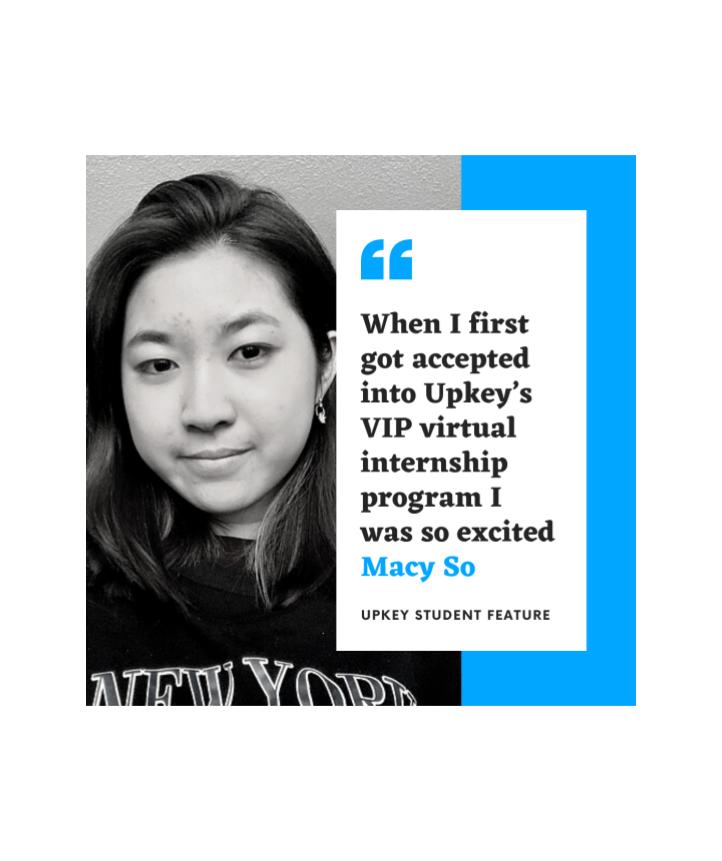 How Upkey's VIP improved my application and skills as an internship candidate
Macy So -Fordham University, New York
My name is Macy So, I am from Hong Kong, and just finished my virtual internship with Upkey. I am currently a sophomore majoring in Computer Science at Fordham University but I will probably transfer to either Boston University or NYU.
My interest in technology
I have a passion for technology; I enjoy learning about new trends in technology that move towards efficiency.
Furthermore, I love seeing projects from a bigger picture and mapping out technology needs, whether it's cloud services or regarding a department's wireless technology.
Technology is not only used to come up with new ideas, but is also used to figure out how to make those ideas work.
It allows me to find solutions to problems that people might encounter and offers solutions to things I never thought needed fixing. My dream job is to become a software engineer/frontend engineer at a branded company such as Google, Microsoft, IBM, etc.
How Upkey helped me grow
When I first got accepted into Upkey's VIP virtual internship program I was so excited. I imagined myself learning and gaining experience in the real world; although, in reality, I learned much more.
During my internship, I still learned soft skills, but the biggest thing that I learned are presentation and communication skills. Every week we made a presentation and then presented it to our fellow peers.
It doesn't only enhance my time-management skills, but also my organization and communication abilities when I addressed misunderstandings that occurred during a team environment.
I tried my best to create an interactive PowerPoint that attracted their attention. After this virtual internship, I am much more confident in my ability to present content.
I can do everything from designing interesting layouts to adding animations, to presenting it in an interactive way and using different tones.

Macy So
Furthermore, joining this virtual internship program allowed me to expand my Linkedin network quickly and effectively. I got to know people that have interests in different fields to possibly reach out again in the future.
My favorite week of this virtual internship program was the "Product Management" week.
Applying my skills to an e-commerce internship
If you are just starting off as a freshman or fresh graduate, I would definitely encourage you to join this program.
It is a great opportunity to gain experience and attend talks with successful people and learn from them.
I am also pleased to say that as a freshman I have secured an internship as a web developer for a fashion start-up (e-commerce).
I think my VIP Upkey virtual internship program really helped me to get this summer internship.

Macy So
The things that they taught in Week 1 with "Communication and Career Launching" were especially helpful.