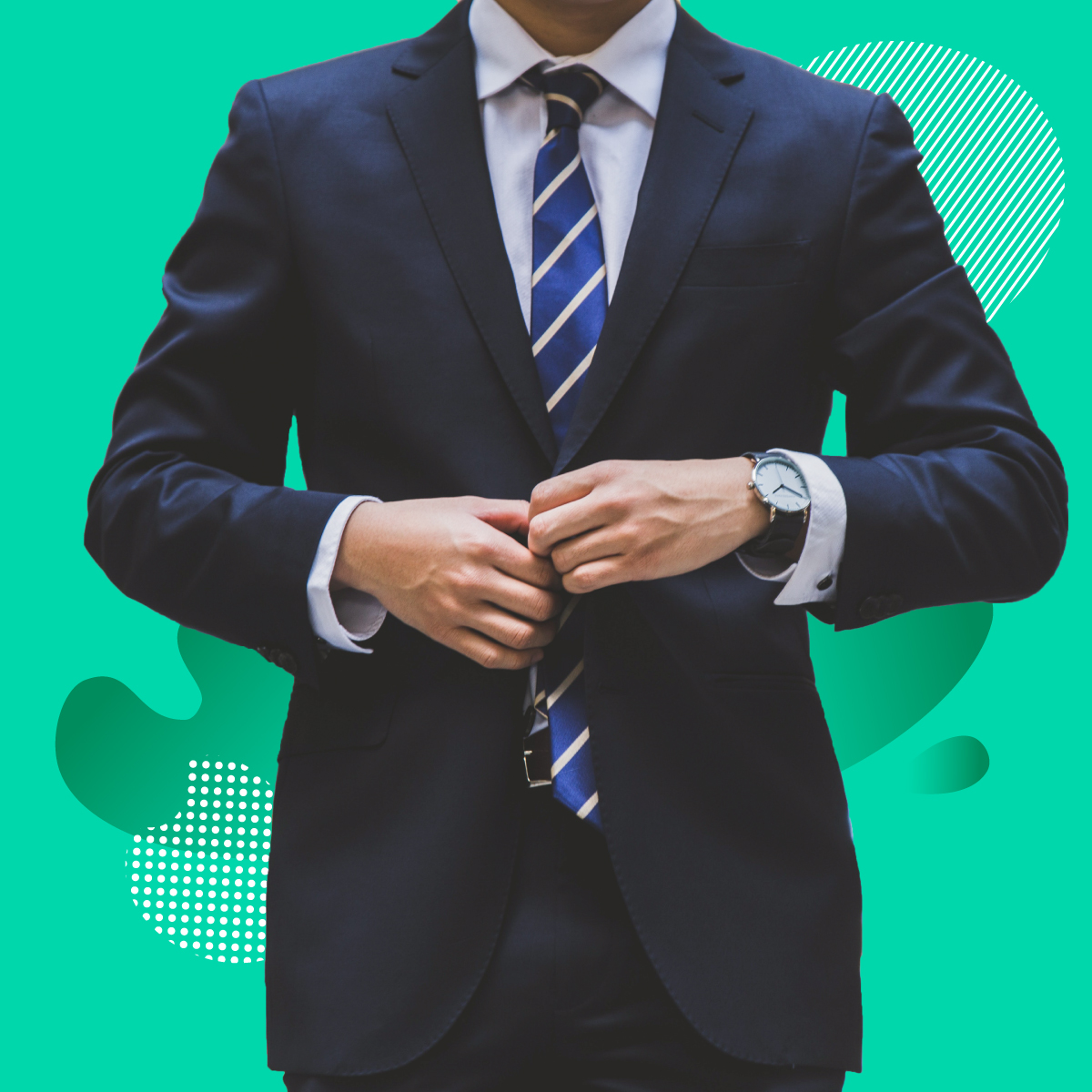 The rules of what you should wear to an interview or your new workplace attire are sometimes a bit confusing. What does business casual mean in today's modern workplace? When the interview does not recommend any, what should your workplace attire be?
This professional workplace attire guide will outline what is expected when your employer or recruiter requests you to wear anything from casual to business professional.
Business Professional
Dressing in business professional code is probably the most straightforward workplace attire. There isn't much room for interpretation with business professional attire. It's the most restrictive and conservative option.

For Men
For men, business professional attire involves a business suit, a white button-down, a complimentary belt, and a tie. Additionally, dark socks and dark dress shoes, like an oxford or a loafer, are recommended.
If that is too boring for your personality, you can try to add a small pop of color, if permitted. This can be done through the addition of socks with a fun design, a button down in a pastel color, or a suit that is dark grey or navy instead of black. It's recommended to do one but not all of these if you choose to do any at all.
For Women
For women, business professional attire involves a blazer, a blouse, and a knee-length or longer skirt or dress pants. If you choose to wear a skirt, you need to wear tights or hosiery. The skirt is recommended to be at least mid-knee length so that when you sit down it does not ride up too high.

Shoes should be closed-toed and comfortable to walk in. They should be dress shoes, like high-quality flats or pumps. A good rule of thumb, if you are confused about what to wear, always lean for more conservative look.

Some workplaces require nail polish colors to be non-distracting and not chipped but adhere to this rule with your own discretion.

If you want to add more personality, you can choose a pastel-colored blouse or a blazer with a small, appropriate pattern. To be safe, keep your makeup neutral as well, without any bold and unnatural colors.
Once you get more comfortable in your role and understand the limitations of business professional attire at your company, you can determine if fun-colored makeup or wild socks are appropriate.

If an interview does not specify a dress code, opt for business professional attire. Unless the company culture seems to be much more casual, it is the safest choice of attire to have a great first impression.
Business Casual
Furthermore a business casual dress code can be one of the most confusing attire requirements. It is not as restrictive as business professional attire, but this leeway results in a gray area that many people have trouble narrowing down.
For Men
For men, business casual usually entails a collared buttoned down shirt or something similar, like a polo, khakis or slacks, and a sweater, blazer, or vest. In this scenario, a tie is optional.
Business casual provides many more options. The colors of your shirts do not need to be strictly neutral, so feel free to choose colors you like that are not too distracting.
For Women
For women, business casual usually means wearing blouses, knee-length dresses or skirts, slacks, comfortable dress shoes, and a sweater, cardigan, or blazer. A jumpsuit that is not revealing is also acceptable.
It's still important to make sure you err on the conservative side until you are familiar with your company's preferences.
Overall, jeans are not considered appropriate for business casual unless you know that your workplace approves of them. If jeans are acceptable, opt for dark jeans without holes or noticeable wear and tear.
Casual Dress Code
Sometimes, a workplace will have "casual Fridays" or become more casual as the workweek progresses. Even though the dress code might be casual, it is still important to understand what kind of workplace attire is expected.

Clothing that is too revealing, offensive, or dirty should not be worn. You can definitely choose clothes like jeans, and still steer clear of ripped jeans unless others in your company are wearing them without repercussions.

Athletic shoes are appropriate for casual days, and you can typically wear any color you like. As always, make sure you are still well-groomed and presentable, not sloppy.
Casual does not mean sweatpants and a ratty t-shirt, it means comfortable but still appropriate. You should still look put together in casual dress code.

Moreover, if you are looking for clothing that is appropriate for the workplace, you can search for stores such as Zara, Forever 21, H&M, Asos, Banana Republic, Express, and J. Crew.
Please note that not all the clothing available at these stores will be workplace appropriate, you need to use proper discretion to find acceptable pieces of clothing.
Gender-neutral

"Finding clothes is increasingly difficult when your gender identity doesn't necessarily match up with the body the world thinks it should."

Christina Orlando
Gender-neutral work attire could be a bit challenging for some organizations, however don't stress, we got you.
For this workplace attire, we suggest you aim at stores such as Zara's TRF line, Uniqlo's unisex offerings, VEEA, Target, and Agender.
Tip: Check out this Pinterest Style Guide.