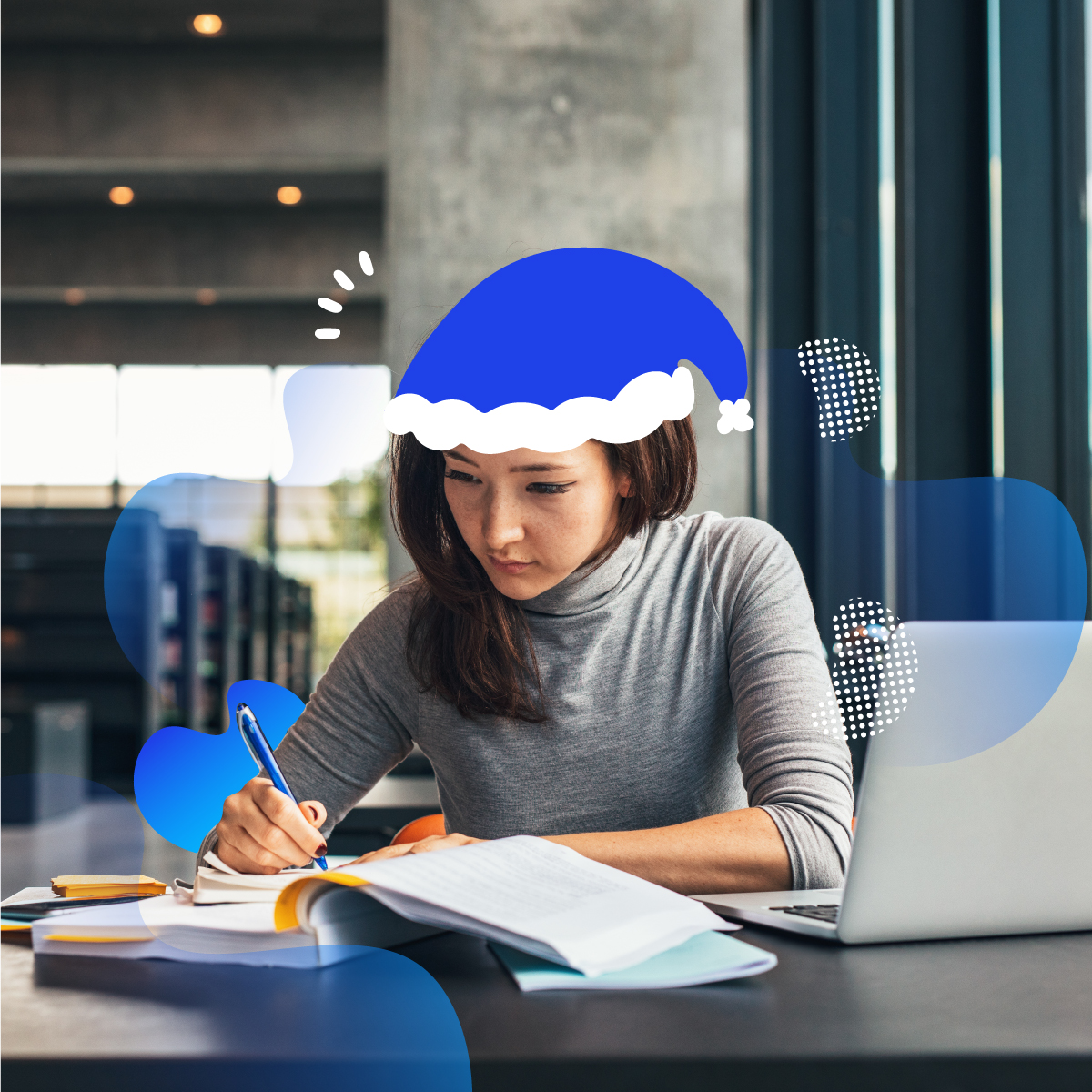 You can use the holidays to prepare for life after graduation!
As the frenzy of finals subsides and the holiday season begins, many soon-to-be grads are ready for a little rest and relaxation. While visions of cozy nights by the fire or happy celebrations with friends and family are alluring, squandering these few weeks of vacation would be a mistake. If you'll be on the job hunt after graduation, then career readiness is definitely on your mind. Finding a job may feel overwhelming, but don't worry! With just a little bit of effort and planning, the few small actions you take during winter break can have a big impact down the line.
We promise you'll still have time for some eggnog and mistletoe. Because the trick is to take some time each day to complete at least one task. And if you follow the tips and tricks below, it will get you closer to your ideal post-college existence.
Set Yourself Up for Professional Success
Resume Optimization
Plan to set out on a path for career readiness come June? Your career prep needs to start with resume optimization. That's because now's the time to revisit all the skills and education you've picked up over the last semester and see how they can be incorporated into your CV. Remember to include relevant classwork and online courses. Don't forget volunteer work, groups you may have joined, or other extracurricular activities. Of course, make sure to add any relevant work experience, whether it was an internship, part-time job, or work-study on campus.
If this is your first serious resume, you'll want to make sure you follow some best practices to make sure it is visually compelling and includes all the right information. Start out by doing some research on current examples of what an exception resume should look like. Formatting is critical, so take your time and familiarize yourself with common rules and procedures. You can always use online resources designed to help you create a professional resume with automatic formatting. Learning how to build an effective resume doesn't have to be difficult or overwhelming. Sam, Upkey's resume building service, can help you create a beautiful and compelling resume with modules designed to showcase your skills and position you as a top candidate.
LinkedIn Profile
Once your resume and cover letter are up-to-date, the next career readiness step is to use that information to create or update your LinkedIn profile. LinkedIn is now the go-to online resource for job seekers and employers. Additionally, recruiters are using LinkedIn to discover candidates, so it's important that you accurately portray your skills and experience. If you have an idea of the type of industry or field you would like to pursue, join relevant groups and begin to follow thought-leaders so you can stay current with developments and opportunities that align with your goals and ambitions.
While many factors going into optimizing your profile, it's best to begin by reviewing your cover image and ensuring you create a visually cohesive theme that presents you to prospective employers in a way that is both professional and engaging. Start with a headshot, preferably against a plain background, that includes your face and shoulders. Dress in business attire and make sure to smile.
Next, choose a headline that summarizes your expertise and provides an idea of the type of work you are seeking. Your summary will delve deeper into your skills and experience, but make sure you use language and information quantifies your professional accomplishments. Wrap it up with any certifications or licenses, and reach out to colleagues for endorsements and recommendations. And finally, don't forget to use LinkedIn to expand your network of professional connections. Once you begin the job hunt in earnest, it will help if you can reach out to specific individuals for insight or a recommendation.
Build a Website and Portfolio
Another key to career readiness is to market yourself by creating a compelling and exciting online presence. While LinkedIn is the essential jumping-off point for your job search, it's equally important to establish your online persona. Create a website that includes your name in the URL. If you're uncomfortable with your website building skills, ask a friend for help or use one of the many services available that provide website templates that are budget-friendly and easy to use. If you work in a creative field, make sure to include a portfolio of your work. Think of your website as an online business card. As you develop your professional network or begin applying for jobs, your URL can help you stand out from other candidates and provide you with another opportunity to showcase your talents.
Career Readiness Means Top Interview Prep
Finally, because you "never get a second chance to make a first impression," use this downtime to upgrade your interpersonal skills. The moments before, during, and after an interview, all require preparation and practice. Your resume, cover letter, and LinkedIn profile are all your first introduction. If you are called in for an interview, you will need to arrive prepared. Take some time to critically assess your wardrobe. You should have at least two interview-ready outfits, including well-kept shoes and a briefcase, satchel, or purse. Get a haircut and practice your interview skills with patient friends and family.
Finally, you will want to be able to articulate and pitch the story of who you are while also sounding smooth and professional. True career readiness starts by refining your elevator pitch. Can you summarize who you are and what you can do in one or two sentences? You need a compelling personal story that will resonate with your intended audience and establish why you are the perfect candidate for that perfect job or dream internship. With Gina, Upkey's digital pitch coach, you will learn all you need to know about crafting the perfect elevator pitch so that you can ace that interview every time.
Establish a Powerful Networking Strategy
They say "it's not what you know, but who you know." If you're planning to leap into the job market after graduation, take this advice to heart by building your pool of professional contacts and finetuning your networking strategy. When career readiness is the goal, it's important to have some guides and mentors to help you along the way.
Make a Contact Bucket List
Start by creating a list of all the people you made a connection with during your last semester: anyone could be a valuable asset. Was there a professor that provided positive feedback? Did you participate in a group event with other students who shared similar professional goals or interests? Did you meet a potential mentor at an event or through friends?
Once you have your list, divide your contacts into two groups. The first group should contain individuals you think need a personal touch, like a one-on-one conversation over coffee or an appointment during office hours. The second list should include more tangential connections, these are people you met once or twice but haven't yet established a more meaningful relationship. This second group can be contacted via social media, including a simple invitation to connect on LinkedIn.
Grow Your Network
Don't be afraid to be bold, particularly with your second group of contacts. Those more tenuous connections don't have the same high stakes as your first group, so it's fine to go out on a limb. If your roommate's brother works at a company or industry you are excited about, it's okay to send a request with a small note explaining how you know each other. The same goes for friends-of-friends, old coworkers, and even members of your intramural team. The important thing here is to establish and maintain these contacts so that you have a solid base to work from when you are seeking recommendations, referrals, or even just some professional advice. After all, you never know who might prove valuable down the road when you are applying for internships or a full-time position.
Find Your Professional Soulmates
Finally, make sure you research professional organizations related to your field or industry. Many of these groups offer special discounted rates for students and are a great way to meet like-minded individuals and gain access to industry-specific training and job boards. These organizations often hold networking events, lunch-and-learn programs, and other career resources. Establishing a relationship with these organizations is essential to your networking strategy and will help you create a solid foundation for your job search while also allowing you to develop deeper ties with potential colleagues and mentors.
Improve Your Quality of Life
Winter break presents an opportunity to set yourself up for success for the year to come, especially when it comes to preparing for your career after college. While career readiness requires hard work and discipline, it's equally vital that you set aside time for more personal pursuits so that you can be a more well-rounded (and therefore desirable) candidate.
Start by using your downtime to develop some skills in your field through online courses or books. Schedule doctors' appointments and make sure you have all your health insurance needs taken care of, whether you'll stay on your parents' plan or need to find your own coverage. Make a plan for the next semester, including setting aside time for exercise, entertainment, and other enjoyable activities. Take some time to reconnect with friends and family. Get outdoors, take a hike, go on a walk with the family dog, or join a group activity. Volunteer your time and donate any items you no longer need.
Whatever you do, make sure to use this time to reconnect with your dreams and ambitions so that you can head into the new year invigorated, inspired, and ready to succeed. Remember, the goal is a full and satisfying life, and career readiness is just one (important) part of that process.