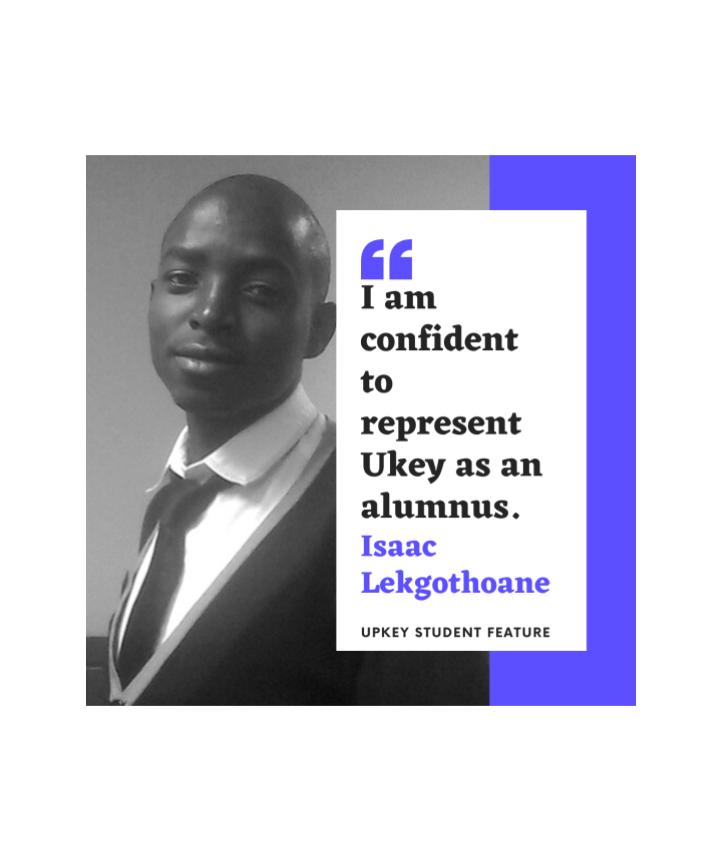 How Upkey's VIP helped me navigate my passions to form future goals
Isaac Lekgothoane, Alexandra, South Africa, The TOP Person Ambassador

My name is Isaac Lekgothoane and I am from South Africa. I just finished my Micro Marketing virtual internship with Upkey. I am currently an ambassador for The TOP Person and I'm in search of employment that reflects my interests.
My passions and goals
I hold a Bachelor's Degree in Media and Communication Studies from the University of Limpopo, Turfloop Campus.
My passions include media as a communication tool to disseminate information through content creation. Therefore, I enjoy the aspect of bringing value to media consumers through educational programs that enhance reading and writing.
Additionally, youth development is also valuable to me as I believe children are the future content accelerators to address societal issues.
As technology continues to develop, so does our ability to create awareness in the media through image and video storytelling.

How Upkey focused my interests
I had minimal practical experience as a media graduate. Upkey was my best choice to gain valuable experience. The Micro Marketing internship covered a range of topics in marketing and equipped me with skills to use in the corporate world of work.
The internship was amazing and I engaged myself with fellow interns to work on projects in a team. We were able to learn from each other because we are from different parts of the world. I learned the value of what a network means.
I don't exist on my own; my knowledge and life experiences are beneficial to someone else.
Upkey made me discover myself and my abilities to reach my potential.

Isaac Lekgothoane
Additionally, with the knowledge I received from Upkey, I am ready to implement daily in a professional manner to make myself more visible.
I'm confident to represent Upkey as an alumnus to reach its objectives in assisting students worldwide.

How Upkey solidified by future goals
Overall, my goal is to have an excellent career in digital marketing.
Currently, I'm managing a LinkedIn page for a global youth development movement. I'm applying skills I learned from Upkey's industry experts. I have the drive to assist others and marketing is aligned with my goals to bring value.
Upkey is an excellent platform that adds matches and enhances my values. I found Upkey at a time when I needed direction to further myself.
Furthermore, it allowed me to showcase my creative abilities and interests by completing activities and tasks while improving my confidence.
Being an intern at Upkey provided value to my resume and what I can offer to a future career. Also, the program drove deep into practical and technical aspects of the subjects discussed.
I am thankful to Upkey for introducing the industry experts to motivate and inspire us. Their valuable addition to the program made it interesting and something to look forward to. Each day, I knew I would learn a lesson that I could not get anywhere else.
The Upkey internship is unique from the structure to the communication. Guest speakers and host sessions set a high standard.
I look forward to keeping in contact with the Upkey team to further network and reach greater heights.